Use your Dental Insurance Benefits before it's too late
As fall turns to winter,  life gets busier. Making turkey and dressing and finding the best gift to give your loved ones are priorities. But so should be maximizing your dental insurance benefits. When the end of the year quickly approaches your current dental insurance benefits could be ending. Many benefits do not roll over to the next year. Taking advantage of the benefits your dental insurance policy offers helps keep your oral health in check. Consider these 3 reasons for taking a look at your dental insurance policy and consider making some appointments. If you don't have dental insurance, these may also be good reasons to make sure you look into adding them to your primary coverage.
What dental insurance benefits should I pay attention to?
Deductible: The deductible is the amount you must pay out of pocket first before your dental insurance benefits kick in. Your deductible can range from as little as $50 up to over $6000. At the end of each year  insurance benefits don't roll over. January 1 you must meet that dollar amount again before insurance will cover certain costs (check your policy for details. Each is different). If you have already met that cost for the current year, now would be a great time to do that procedure you've may have been putting off. If you wait until next year, you'll have to meet your deductible again before your insurance benefits begin.
Annual Maximums: When considering dental procedures before the end of the year, keep in mind the annual maximums. Annual maximums are just that, the maximum amount insurance will pay out for your dental work within one full year. These unused dollars will not roll over to the next year. Should you have a procedure that will be covered by insurance that fits within that annual maximum, it would be health wise to use it before the end of the year. Once the New Year rings in, you will have another 12 months to meet that annual maximum again.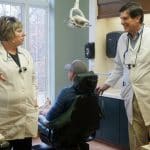 Monthly Premiums: Premiums are what you pay monthly towards your dental insurance which includes preventative maintenance visits(check your individual dental insurance policy for details). Cleanings are usually included in these checkups. Be sure you are on schedule to use your annual visits benefits before the end of the year.
Dental Insurance Benefits– Save Money & Stay Healthy
Dental Insurance companies are not obligated to inform consumers about what benefits they have remaining before the year is over. It's up to the individual to look into their own policy and make sure no benefits are left behind. When it comes to dental insurance benefits you need to use them or lose them. Be sure to consider the rules of your flexible spending account (FSA) before the end of the year and in addition, it's time to start considering next year's benefits.
As a private care family practice, we believe dental insurance can be a valuable benefit to those who have it.  We also believe it should not be used to make decisions about healthcare and specifically your dental needs. We believe our relationship is with our patient and not the insurance company.
As a practice we will do what we can to help you use your benefits. We  try our best to minimize your out of pocket expenses. However, you will be glad to know we don't present options to you based on insurance company standards.  Your health, wellness goals and our relationship with you are our main priorities.
We have found that dental insurance is helpful for patients with minimal needs. For more extensive problems it is more like a "coupon" to help you move forward.
Spending a little time now can save you big. Consistent oral health care is the best way to ward off problems and catch issues early. Delayed treatment can lead to other issues and more expense. So take some time and look over your insurance today before the holidays strike.
https://www.foundationsofhealthdentalcare.com/wp-content/uploads/2017/12/Dental-Insurance-Benefits-Curry-Taylor-DDS-3815-Beck-Road-St-Joseph-MO-6450601.jpg
667
1000
Catherine
https://www.foundationsofhealthdentalcare.com/wp-content/uploads/2021/11/Foundations-of-health-Dental-Care-St-Joseph-Dentist-logo-3.png
Catherine
2017-11-18 11:33:43
2019-11-26 13:11:53
Use your Dental Insurance Benefits before it's too late