St. Joseph Veneers preserve your natural teeth
A veneer is a cosmetic option that is a small covering for a tooth. In most cases, a veneer preserves most of your natural tooth structure. There are two types of material that are used for veneers and we will help you determine which type would best fit your aesthetic and financial goals.
Composite Veneer
Composite veneers are placed in the office directly on the teeth without a laboratory process. We recommend that our younger patients choose this option when deciding to have a veneer.  Our younger patients are active in sports and generally lead a more active lifestyle. The Composite option is less costly initially and can be easily repaired if an incidental fracture happens.
Ceramic Veneers
Ceramic veneers are made from an impression we take of teeth.  We work with our ceramist to evaluate proper contours and color match. The ceramic veneer is bonded to your teeth after minimally preparing your tooth for its placement. We work with our ceramist to ensure that every veneer looks and feels as natural as possible.  This communication is invaluable in obtaining optimum results for our patients.
Veneers can be used to:
Hide cracked teeth
Mask spaces in teeth
Fix broken teeth
Fix chipped teeth
Shape teeth
Lighten teeth
Restore worn teeth
No cosmetic procedure should ever be taken lightly. Ceramic veneers may well need to be replaced over the course of your lifetime. Excellent home care plays a large factor in making sure your veneers last. A simple, consistent regimen of brushing and flossing is needed. Taking care of your veneers is like taking care of your overall health. If you have bad habits, your veneers may not last as long. We have provided before and after photos of a patient who choose veneers.
In keeping with our philosophy of patient care and building good relationships in our St. Joseph dental office, the choice to use veneers as a cosmetic option is based on you, the patient. We will help you explore your choices and provide you with information about what you can expect as a result of your choices. If you would like to explore your cosmetic options for a tooth that may be cracked, chipped, dark or misshapen, please contact or call our office today at (816) 233-0142.
Before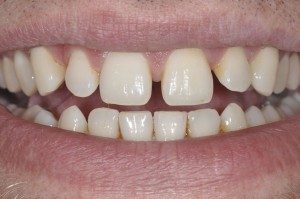 After